Deutsch
The objective of the White Rose Foundation membership association is to uphold the memory and legacy of the resistance group The White Rose against National Socialism. With that, we aim to contribute to civic courage and individual responsibility and to promote democratic consciousness.
The foundation hosts a permanent exhibition in the 'DenkStätte Weiße Rose' in Munich as well as travelling exhibitions, events and educational historical projects about the White Rose and their resistance against the national socialist dictatorship. It is a special concern of ours to make the White Rose's legacy meaningful in our day and time.
White Rose Memorial open as of 11th May 2021
We are pleased to welcome visitors to the White Rose museum, DenkStätte Weiße Rose, once again.
Starting Thursday, July 1, 2021, the DenkStätte is open from Monday to Friday, from 10:30 a.m. to 4:30 p.m.
Registration prior to the visit is currently not required. As the number of admitted visitors inside the exhibition is limited, waiting times may occur.
You can find first impressions of the DenkStätte on Facebook or Instagram – look for #DenkStätteDigital.
We look forward to your visit!
We ask all groups to please contact us ahead of time so that we may schedule your visit.
The White Rose resistance Group
The White Rose is one of the best-known German resistance groups against the national socialist dictatorship. Their thoughts and actions are a symbol of human dignity, freedom, justice, and self-dependent conscientious action.
DenkStätte Weiße Rose – The White Rose exhibition, LMU, Munich
Our permanent exhibition about the history of the White Rose and its resistance in times of Nazi terror and of criminal war. It is complemented by a section about how the White Rose has been remembered since 1943.
Visiting groups are asked to please give notice of their intended visit ahead of time (even when not booking a guided tour) because of the limited space inside the exhibition.
Travelling exhibitions
The White Rose Foundation makes available a travelling exhibition for partner organizations. The exhibition panels can be borrowed internationally in various languages. They provide information about the participants in the resistance circle, their actions, and the destruction of the White Rose as well as about life during national socialism.
Educational activities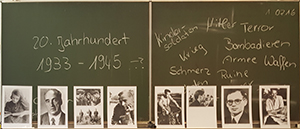 The White Rose Foundation offers seminars for teachers, educational materials as well as guided tours and school projects. These activities are centered around questions such as: How can young people be made aware of the ideals of the White Rose today? What will happen in the era following that of the witnesses to history?
Events
Visit our events page for more information on current events and news related to the White Rose.